Skyros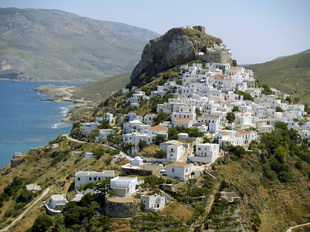 SKYROS, Greece (http://www.skyros.gr/)
Sung about by Homer and full of ancient memories, Skyros is a magical, ancient isle, about 100 miles north-east of Athens. Its old village, with its narrow cobblestone streets, is graced with an unhurried intimacy and wholesome humanness long lost in the contemporary big cities. Its white cubic-style houses are shaded by grapevines wavering gracefully in the glittering sunlight. Yet Skyros is a mixture of tradition and global trends. Doors are left unlocked, children play out until late and weddings and special events are celebrated by the entire community. Still, young men drink whisky at cool, funky bars and young women are as fashion-conscious as their counterparts in London's Knightsbridge. The island lives in more than one century at once.
The island's long history goes far beyond the reach of memory. Recent archaeological finds at Palamari, near Atsitsa, have uncovered a well-fortified village dating back to the Early Bronze Age (2,800 BC). Artifacts from the site are on display at the village's Archaeological Museum.
Achilles, the hero of the Trojan war, spent his early years on the island, and Athenian hero Theseus, the man who slew the dreaded Minotaur of Crete, died there. King Lycomedes' palace on top of the village hill was built in pre-Homerian times, rebuilt by the Byzantines and then again by the Venetians. The Byzantine monastery of Saint George, built on the ruins of an ancient temple, is still intact. So are many old traditions including the island's mesmerizing goat festival which, rooted in Olympian Greece, draws visitors from all over the world.
Rupert Brooke, the English poet, is buried in the tranquil olive grove on the southern part of the island, that 'corner of a foreign field that is forever England'. The islanders have honored Brooke by naming one of the village squares after him.
HOW TO GET THERE
Flying to Athens:
Swiss offers two daily flights to Athens (www.swiss.com)
Hotel recommendation in Skyros:
Dioni Hotel
, Skyros (ask for Constandinos!)
We have been there many times and it's very restful and only about 100m from a quiet beach. The island is small and usually very few foreigners, which we enjoy of course. The nightlife is relatively calm and the main town of Skyros up on a rock is pleasant in the evenings for dinner, drinks, etc.
To get there is relatively easy.
- It's about 120km (~2 hours drive) to get to Kimi from Athens airport
- Then you have regular ferries going to Skyros (approx. 1h40) - http://www.sne.gr/home.php?page=tt
- Click for the Google maps link
- Once in Skyros the Dioni hotel is about 10 minutes from the port of Skyros in Aspous
And don't miss taking a wonderful cruise with our friends at
feelingreece.gr
---